Surety 3 General Agency * Agents Marketing Form
Copyright © 2012 Surety 3: Designed By R. Dowston
Agents Marketing Team
BY SUMMITTING THIS REQUEST YOU AGREE TO HOLD SURETY 3 GENERAL AGENCY AND IT'S INSURER HARMLESS OF ANY AND ALL LIABILITY AND AGREE THAT YOU ARE THE OWNER AND AUTHORIZED USER.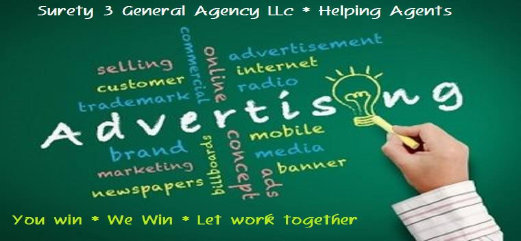 Surety 3 General Agency marketing service is to enable agents to write bonds and not worry about Marketing their business to website search engines, street promotion and much more. FREE OF CHARGE !
We will lend our support and guide your marketing efforts. Surety 3 General Agency will list your business in over 30 sites and apps
Welcome to Surety 3 General Agency a nice Place for your Bail Bond Business!
To get started, all you need to do is fill out this form, summit it and we will verify your association with Surety 3 General Agency and add your business to all the website search engines and in 90 days or less you will notice a change.
We are a Surety Agency of thinkers, out-of-the-box visionaries, with big ideas. Our primary objective is to help our agent's overcome key challenges within Bail Bonding industry while ultimately achieving their business goals.


Do you have a musical artist, brand, movie, or dvd release in your area? What about a political campaign, video game, or new beverage your company is launching? Whatever it is, you need to got the word out! In order to do that, you need to reach more people... lots more! The main reason people aren't buying your stuff is because they don't know you exists. You need to get a sample in their hands (or ears), or have a friend tell them to check it out. That's where we come in. Everyone knows that word-of-mouth promotion and street marketing are some of the most important elements in any sensible campaign to increase consumer awareness for your Bail Bond Compay.